CONNECT Interview: Arjan Xhelaj, Director General, RASH, the Academic Network of Albania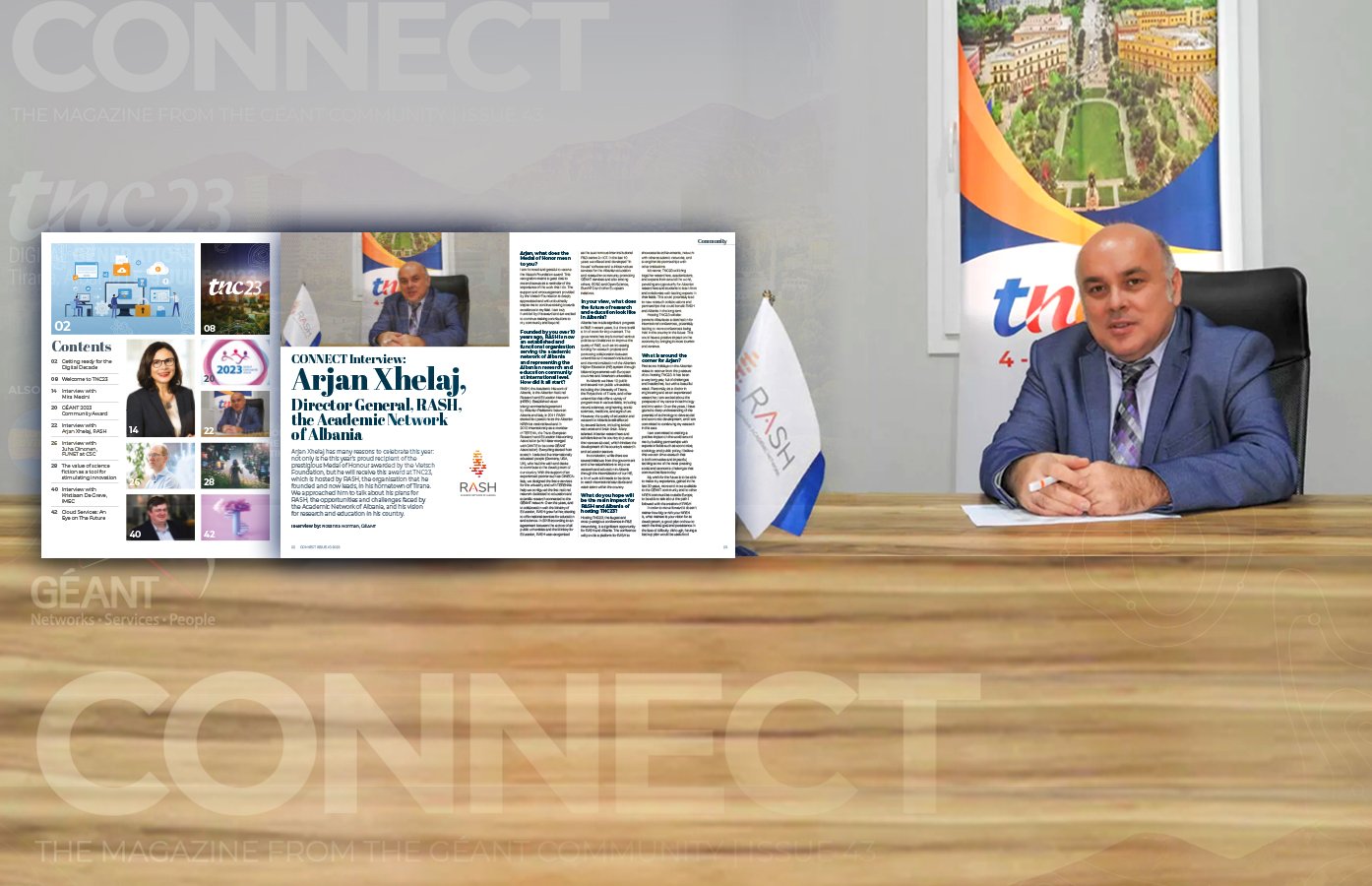 Arjan Xhelaj has many reasons to celebrate this year: not only is he this year's proud recipient of the prestigious Medal of Honour awarded by the Vietsch Foundation, but he received this award at TNC23, which was hosted by RASH, the organisation that he founded and now leads, in his hometown of Tirana. We approached him to talk about his plans for RASH, the opportunities and challenges faced by the Academic Network of Albania, and his vision for research and education in his country.
Arjan, what does the Medal of Honor mean to you?
I am honored and grateful to receive the Vietsch Foundation award. This recognition means a great deal to me and serves as a reminder of the importance of the work that I do. The support and encouragement provided by the Vietsch Foundation is deeply appreciated and will undoubtedly inspire me to continue striving towards excellence in my field. I am truly humbled by this award and am excited to continue making contributions to my community and beyond.
Founded by you over 10 years ago, RASH is now an established and functional organisation serving the academic network of Albania and representing the Albanian research and education community at international level. How did it all start?
RASH, the Academic Network of Albania, is the Albanian National Research and Education Network (NREN). Established via an intergovernmental agreement by Albanian Parliament between Albania and Italy, in 2011 RASH started its operations as the Albanian NREN at national level and in 2012 internationally as a member of TERENA, the Trans-European Research and Education Networking Association (which later merged with DANTE to become GÉANT Association). Everything started from scratch: I selected five internationally educated people (Germany, USA, UK), who had the wish and desire to contribute to the development of our country. With the support of an experienced partner such as CINECAItaly, we designed the first e-services for the university and with TERENA's help we configured the first national network dedicated to education and scientific research connected to the GÉANT network. Over the years, and in collaboration with the Ministry of Education, RASH grew further, starting to offer national services for education and science. In 2018 according to an agreement between the rectors of all public universities and the Ministry for Education, RASH was reorganised as the autonomous Inter-institutional R&D centre for ICT. In the last 10 years we offered and developed "in house" software and e-infrastructure services for the Albanian education and researcher community promoting GÉANT services and also among others, EOSC and Open Science, EuroHPC and other European initiatives.
In your view, what does the future of research and education look like in Albania?
Albania has made significant progress in R&E in recent years, but there is still a lot of room for improvement. The government has implemented various policies and initiatives to improve the quality of R&E, such as increasing funding for research projects and promoting collaboration between universities and research institutions, and internationalisation of the Albanian Higher Education (HE) system through bilateral agreements with European countries and American universities. In Albania we have 12 public and several non-public universities, including the University of Tirana, the Polytechnic of Tirana, and other universities that offer a variety of programmes in various fields, including natural sciences, engineering, social sciences, medicine, and agriculture. However, the quality of education and research in Albania is still affected by several factors, including limited resources and brain drain. Many talented Albanian researchers and scholars leave the country to pursue their careers abroad, which hinders the development of the country's research and education sectors. In conclusion, while there are several initiatives from the government and other stakeholders to improve research and education in Albania through the internalisation of our HE, a lot of work still needs to be done to reach international standards and retain talent within the country.
What do you hope will be the main impact for RASH and Albania of hosting TNC23?
Hosting TNC23, the largest and most prestigious conference in R&E networking, is a significant opportunity for RASH and Albania. The conference will provide a platform for RASH to showcase its achievements, network with other academic networks, and strengthen its partnerships with other institutions. Moreover, TNC23 will bring together researchers, academicians, and experts from around the world, providing an opportunity for Albanian researchers and students to learn from and collaborate with leading experts in their fields. This could potentially lead to new research collaborations and partnerships that could benefit RASH and Albania in the long term. Hosting TNC23 will also promote Albania as a destination for international conferences, potentially leading to more conferences being held in the country in the future. This could have a positive impact on the economy by bringing in more tourism and revenue.
What is around the corner for Arjan?
First some holidays on the Albanian riviera to recover from the pressure of co-hosting TNC23. It has been a very long year, full of challenges and headaches, but with a beautiful result. Personally, as a doctor in engineering and as an experienced researcher, I am excited about the prospects of my career in technology and innovation. Over the years, I have gained a deep understanding of the potential of technology to drive social and economic development, and I am committed to continuing my research in this area. I am committed to making a positive impact on the world around me by building partnerships with experts in fields such as economics, sociology, and public policy, I believe that we can drive research that is both innovative and impactful, tackling some of the most pressing social and economic challenges that communities face today. My wish for the future is to be able to make my experience, gained in the last 30 years, more and more available to the GÉANT community and to other NREN communities outside Europe, to be able to talk about the path I followed with the creation of RASH. In order to move forward it doesn't matter how big or rich your NREN is, what matters is your vision for its development, a good plan on how to reach the final goal and persistence in the face of difficulty. Although, having a backup plan is useful too!